Choosing a Study Abroad Program
Hi everyone. Good to see you here again. As you know, at CIC, most students study abroad in their second year. Some of you may not be sure how to choose the best study abroad program because there are too many things to consider! For instance, you need to decide if you want to (a) study in an English-speaking country or not, (b) study language or take classes IN a language, (c) study abroad for a semester or full year, (d) live in a dormitory, apartment, or homestay, etc. Of course, you need to consider the costs for studying abroad too.
I'm sure the staff at the Study Abroad Office are very helpful, and they probably have more information about the programs than anybody else. You can also talk with your family or classmates too.
Another useful source of information is senior CIC students who already went overseas. Since some of them already studied at the same universities you are thinking of going to, who could give you better advice than these students?
Reading Study Abroad Reports
As you may already know, CIC students who finished the study abroad program are required to submit a report about their study abroad experience (留学報告書). I'm sure reading these reports will answer some of the questions you might have about studying abroad.
So in this class, I'd like you to read study abroad reports written by senior CIC students, and tell me what you learned from their experience. I know that some of you are from overseas and will not study abroad for the Overseas Study Program (because Japan is your study abroad). But I'm sure that reading these reports and learning (a) how the students prepared for their study abroad, (b) what they learned from their experience, and (c) how they are planning to apply their experience to their academic life or future career is also beneficial for those of you who are not studying abroad next year.
Below is what I'd like you to do:
注)Google Driveにアクセスする際に、以下のようなメッセージが出る場合があります。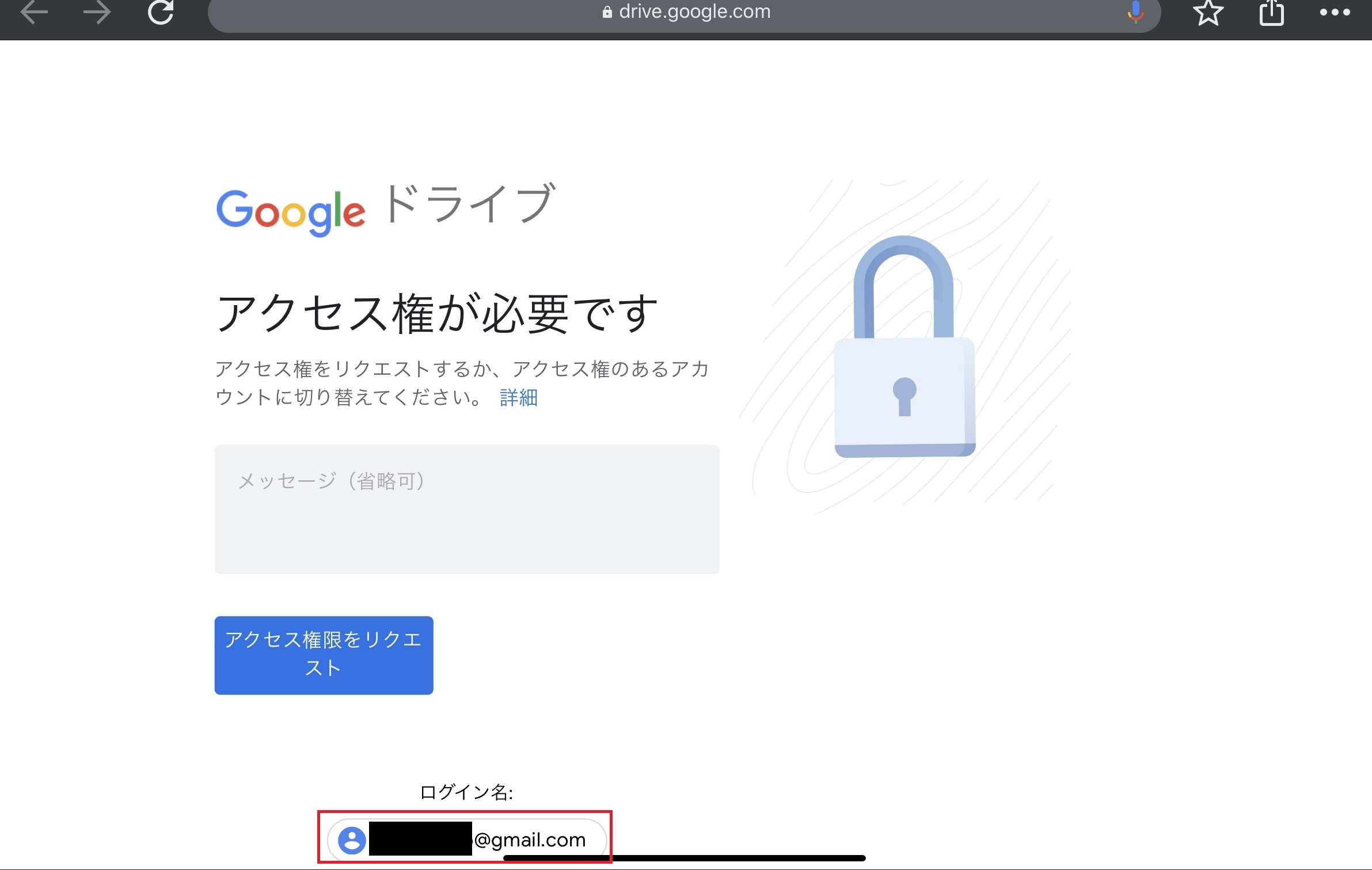 上のようなメッセージが表示されたら、画面の一番下にある「ログイン名」の下の「XXXX@gmail.com」というアドレスをクリックしてください(「アクセス権限をリクエスト」というボタンはクリックしないでください)。
「XXXX@gmail.com」というアドレスをクリックすると、以下のような画面が表示されます。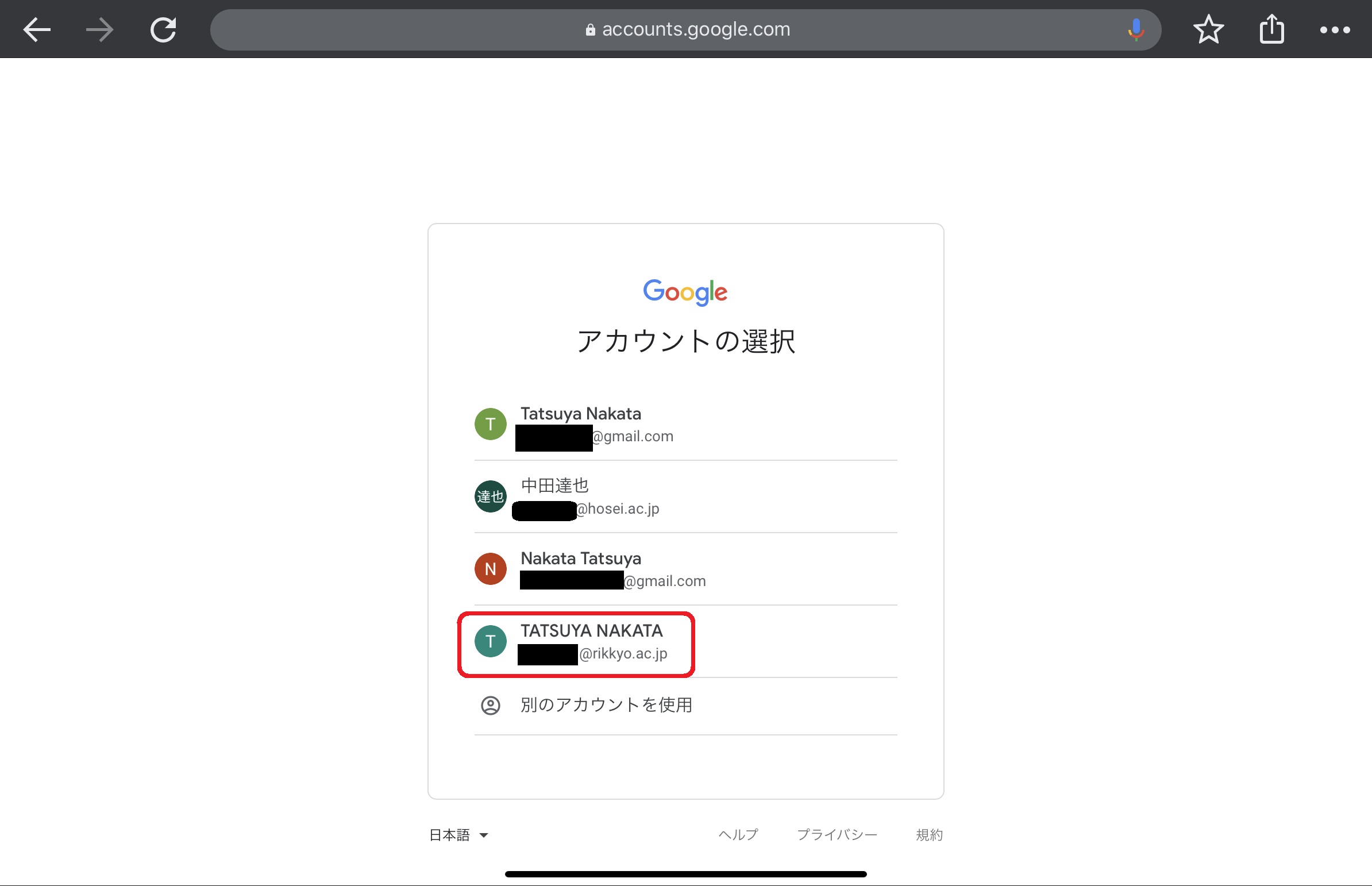 一覧の中から立教のメールアドレスを選択してください。
Please note that for this assignment, you'll be reading reports written only by those who went overseas through the Study Abroad Office of CIC, not through the International Office (国際センター) of Rikkyo.
I hope reading senior students' reports will help you choose a study abroad program (or reflect on your own experience, if you are already studying abroad in Japan).
Results of the Group Project
A few weeks ago, you worked on group projects. I think every group did a very good job, and I'd like to congratulate you on the good work.
After the group project, I asked you to read the papers from other groups and choose one paper that you liked the best. I've finished tabulating the results, so I'm announcing the top 9 teams with most votes! Let's see if your group made top 9.
Here are the results:
| | | | |
| --- | --- | --- | --- |
| Rank | Group | Country | Number of votes |
| 1 | 7 | Brunei | 36 |
| 2 | 20 | UK | 23 |
| 3 | 17 | Canada | 15 |
| 4 | 24 | Taiwan | 10 |
| 5 | 3 | UK | 7 |
| 6 | 4 | Denmark | 6 |
| 7 | 8 | Australia | 5 |
| 8 | 14 | France | 5 |
| 9 | 1 | UK | 4 |
| 9 | 18 | UK | 4 |
| 9 | 22 | Thailand | 4 |
So our winner is Group 7. Congratulations! Many people commented that they liked their paper because the group's use of visuals (pictures) was very effective. Many students also wrote that their paper was very readable and informative. Well done!
If your group was among the top 9, congratulations! And even if your group didn't make top 9, please do not worry. I'll give you another group project next week, so please try your best so your group will be everyone's favorite next time!
Next Group Project
For the next two weeks, I'll give you another group project. You will be working with different team members from the last project.
In the last group project, some students commented that they didn't have enough time to get to know their teammates before working on the project. So this time, I've decided to announce the new teams a week before so you can have a head start.
Please click on the following link to find out who your new teammates are:
(* You need to log in to Rikkyo account to view the above file.)
For privacy reasons, once again, in the above file, you'll find only student IDs (学生番号) of your teammates, not their names. So the first thing you need to do is to find out their names by emailing them!
You can find out their email by adding "@rikkyo.ac.jp" to their student ID. For instance, if the student ID of one of your teammates is "20dm234a," his/her email address is 20dm234a@rikkyo.ac.jp.
Email address = student ID + @rikkyo.ac.jp
If you haven't already received an email from your teammates, why don't you email your teammates and start introducing yourself? (Try to use English as much as you can!)
If you get a hold of your teammates, please decide who's going to be the new group leader. A group leader may have to occasionally contact me on behalf of other teammates (e.g., submit the group project online), but it's not like the leader has to do all the work. So please don't be shy and volunteer to be a leader in your new group!
If you are the group leader, please click on the following link and let me know who the new leader is in your group:
Due: Wednesday, 24 June 5 p.m.
As in the last time, when you work with your classmates, you can contact via LINE, or organize a Zoom meeting. I recommend that you organize Zoom meetings because I believe communicating synchronously (real time) on Zoom is much easier than communicating via email or LINE. I know it may be difficult to set a date because everyone has different schedules, but perhaps you can have a Zoom session during the designated class period of CLP, that is, 3rd period Thursday, either next week (6/25) or the week after next (7/2). For the next two weeks, I won't be giving you any assignments other than the group project, so you can work on the project during class hours.
I'll tell you more details about the project next week. In the meantime, please start contacting your new teammates and get to know them. If you establish a good relationship with your teammates now, I'm sure the group project from next week will be much more enjoyable and worthwhile.
Well, this is it for today! Have a good weekend and see you next week!
Answer keys for last week
In last week's class, I asked you to read a passage about a critical incident ("Japanese  and American Cultures — Eating in Class –") and answer questions about the  passage. Below are the correct answers for the questions:
1. (C) 2. (B) 3. (C) 4. (A)
As long as you answered the questions, it will not affect your grades. So please don't  worry even if you got some items wrong.
Any questions?
If you have any questions about this class, you can post your questions on Blackboard too. I created a 掲示板 called "Questions about the course," so you can post any questions you might have about this class there.
Questions about the course (Blackboard)
(Please log in to Blackboard at https://bb.rikkyo.ac.jp/ before clicking on the above link)
You can click on スレッドの作成 and post your question there.