Hi everyone. Welcome to the last class of CLP this semester! Last week, we heard from our international students. In today's class, we will hear from our sempai (senior) CIC students. Hope you enjoy the last CLP class of this semester!
Results of Group Project 2
A few weeks ago, you worked on group projects. I think every group did a very good job, and I'd like to congratulate you on the good work.
After the group project, I asked you to view the files created by the other groups and choose one that you liked the best. I've finished tabulating the results, so I'm announcing the top 9 teams with most votes! Let's see if your group made top 9.
Here are the results:
| | | |
| --- | --- | --- |
| Rank | Group | Number of votes |
| 1 | 6 | 32 |
| 2 | 20 | 23 |
| 3 | 9 | 22 |
| 4 | 14 | 11 |
| 5 | 12 | 9 |
| 6 | 1 | 4 |
| 6 | 4 | 4 |
| 6 | 10 | 4 |
| 9 | 2 | 3 |
| 9 | 13 | 3 |
| 9 | 25 | 3 |
So our winner is Group 6. Congratulations! Many people commented that they were impressed that the group created a web site for this project. Many students also wrote that the web site looked very professional. Well done!
If your group was among the top 9, congratulations! And even if your group didn't make top 9, please do not worry. I know that the success of group projects is partly due to luck (e.g., whether you were lucky enough to have good teammates or not), so there is no need to worry even if your group didn't make top 9.
CIC Student Panel
Every year, as a part of College Life Planning, we hold "CIC student panel discussion," where we invite several sempai (senior) CIC students, and ask them to talk about their experience of studying at CIC. Since classes are conducted online, we will not have a panel discussion per se this year. Instead, I've asked several senior students to talk about their experience (in the form of video or document).
I've asked them to talk about how they chose their study abroad location and their preparation for studying abroad. They were also asked to talk about any intercultural experience that they had during their study abroad and how they think their experience will influence their future, etc.
Fortunately, six students have volunteered to share their experience with us. Please click on the following link to find out what they have to say about their experience of studying at CIC (you might recognize some students from the study abroad report assignment). After hearing their stories, I will ask about what you took away from their experience.
https://drive.google.com/drive/folders/10kzHB2EA5n3A_IoVh0cypFgP2PvRThir?usp=sharing
(Please do not download, screenshot, or redistribute the above files.)
Note: You need to log in to Rikkyo Spirit account to view the files.
When you click on the above link, sometimes you get a message like the following: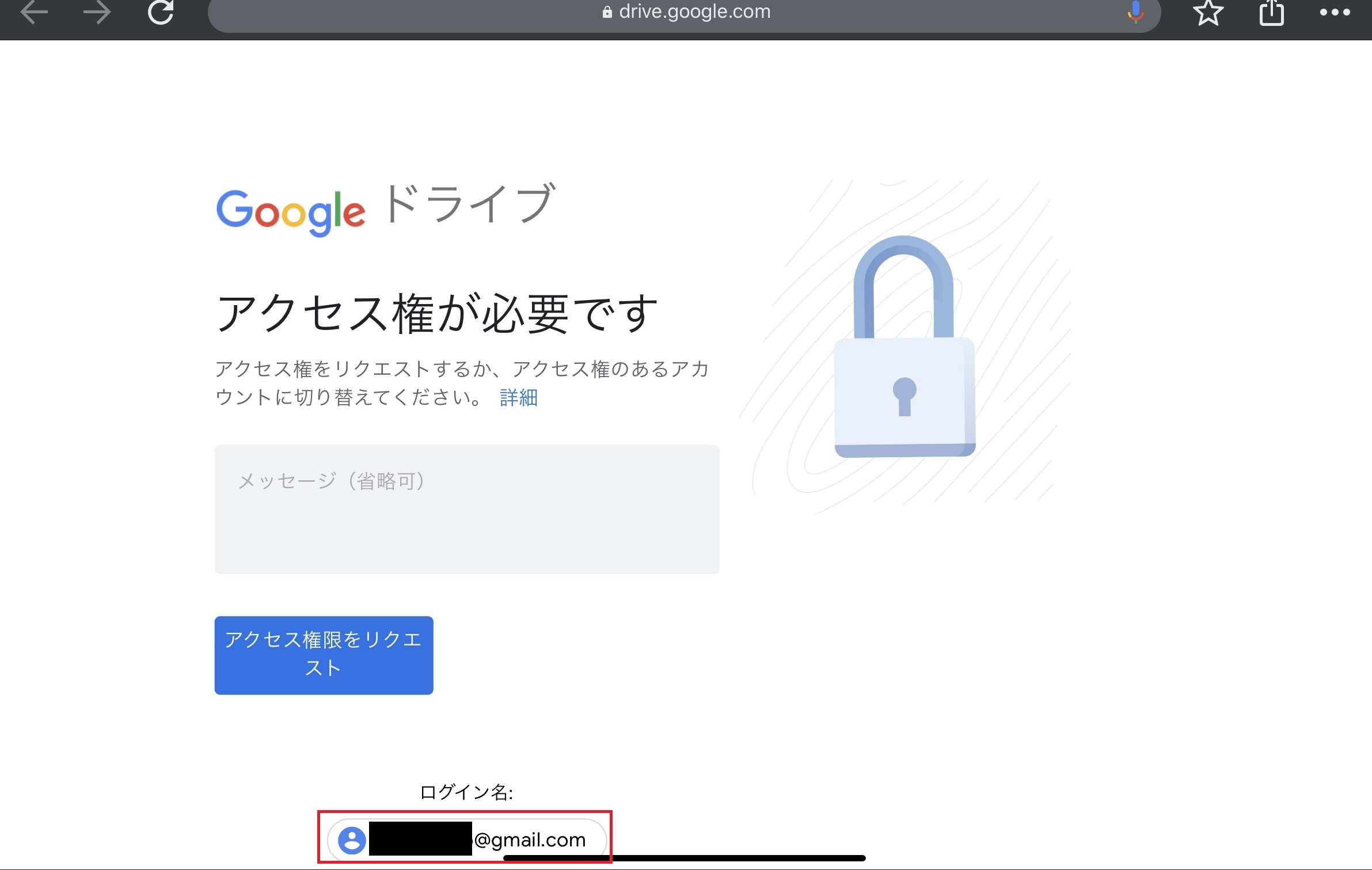 When this message shows up, please click on your email address at the bottom (e.g., XXXX@gmail.com), under ログイン名. Please DO NOT click on the button that says 「アクセス権限をリクエスト」.
When you click on your email address at the bottom, you'll be redirected to a screen like below: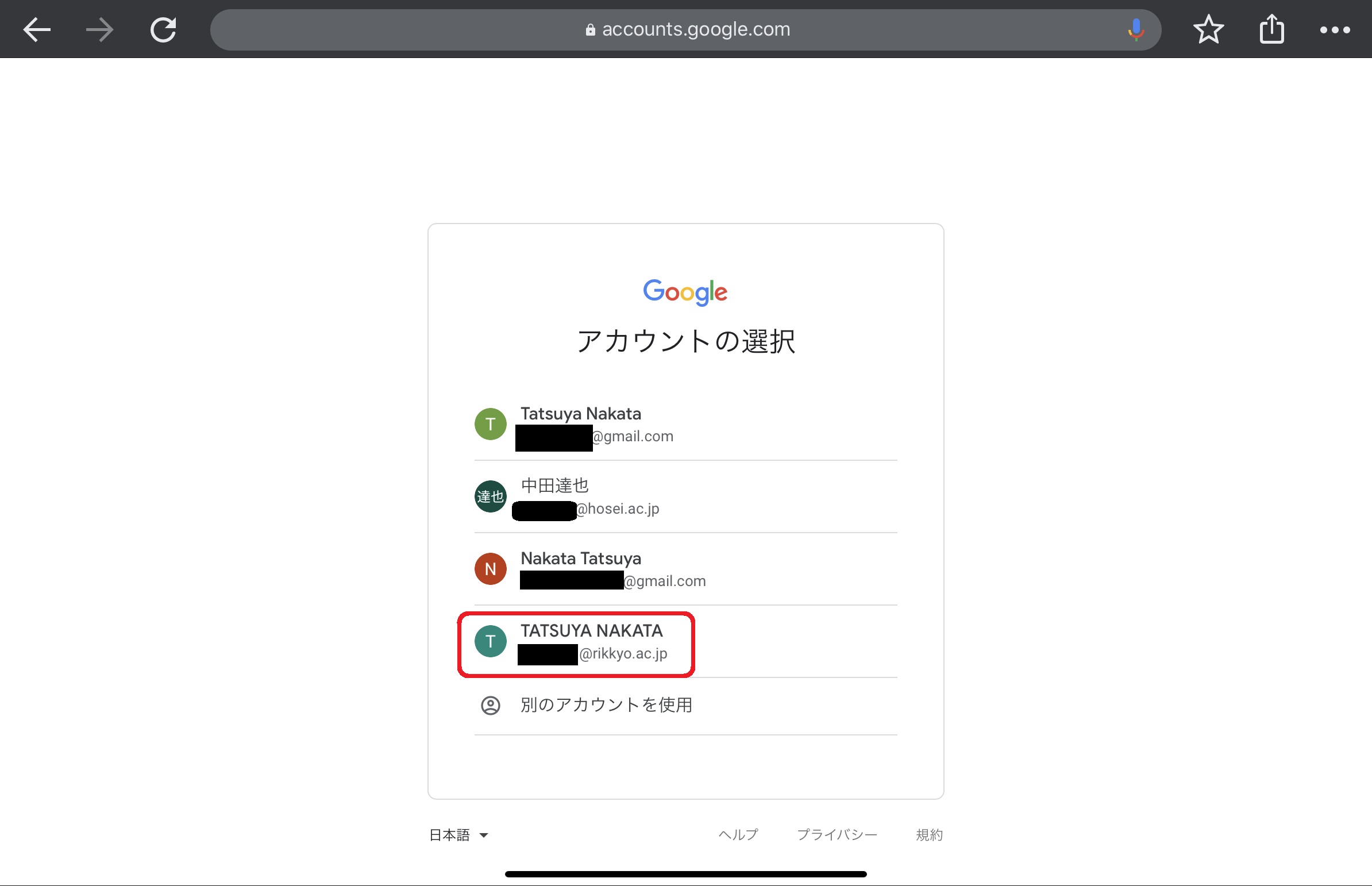 Please click on your Rikkyo email address from the list.
What did you think? Was there anything you found particularly valuable, surprising, or inspiring? Please click on the following link and let me know!
https://docs.google.com/forms/d/1_jrkBNWy-gHrm–TX5nHbeHYGY6gU1SX3PgRfho3cpY/
Due: Wednesday, 22 July 5 p.m.
If you complete the above assignment, this is it for today! As I've said, this is the last class of the semester. You'll have CLP in the fall semester too, but your instructor will be Mr. Velasco, not me. I hope you'll have a good summer and enjoy CLP with the new instructor from September.
You've been great students, and it was my pleasure to teach this class. I hope to see some of you in the near future in other classes!
Any questions?
If you have any questions about this class, you can post your questions on Blackboard too. I created a 掲示板 called "Questions about the course," so you can post any questions you might have about this class there.
Questions about the course (Blackboard)
(Please log in to Blackboard at https://bb.rikkyo.ac.jp/ before clicking on the above link)
You can click on スレッドの作成 and post your question there.